Overnight Stuffed French Toast Recipe (Low Fat, THM E)

Overnight stuffed French toast makes one of the best Sunday morning breakfasts… mainly because you prep the whole thing the night before! It takes ten minutes to throw together, and you can simply pop it in the oven the next morning for a quick and delicious breakfast.
I'm not sure about you, but Sunday mornings in our house are hectic! I've always struggled with making it to church on time. As our family started growing, this has not gotten easier. Breakfasts like this save my bacon (but if you're a Trim Healthy Mama, please save the bacon for an S meal ;).
Click here to learn more about THM for weight loss and how I lost the baby weight in just 4 months!
And the best part? It tastes like a delightful, gourmet breakfast that you'd get at a fancy bed and breakfast. It's so easy that you can even pretend you're a guest at a B&B from the comfort of your own home!
Toppings for THM'er's
My husband is more lenient with his THM plan (he's a runner and at goal weight), so he uses a dash of pure maple syrup to top his stuffed French toast. For great weight loss friendly toppings, consider Polaner's All-Fruit and fat free ReddiWhip (if you're a Drive Thru Sue sort of gal). It tastes so decedent!
You can also make your own sugar-free maple syrup (recipe found in the first Trim Healthy Mama cookbook) or use stevia-sweetened Greek yogurt and berries.
Ready for 5-Ingredient THM-Friendly Meals?
---
Want to make THM easier? This Slim & Speedy Menu has 3 days of 5-Ingredient Meals to help you fuel your body fast with slimming foods. (THM-friendly!)
Benefits of Sprouted Bread
Sprouted bread can offer you some awesome health benefits over regular bread. The process to create sprouted grains involves soaking the grain until it starts to sprout (lol, the name makes sense, right?).
Once it has started growing, it's drained and milled for use.
The super helpful and healthful thing is that the sprouting/growing process involves the release of enzymes and nutrients that are great for your health. These nutrients help to blunt the glycemic (blood sugar) response of the carbohydrates from the grains and can make them much easier to digest. It makes bread better for your blood sugar levels, you get more vitamins and minerals, and all that in a more digestible form! Sprout, lil grains, sprout!
Um, I'm pretty sure eating sprouted bread is practically like eating vegetables… 😉
Store-Bought Sprouted Bread Options

Ezekiel sprouted bread does a great job in this recipe, and it's usually easy to find in the freezer section of your local grocery store.
Nature's Own makes a really tasty sprouted bread, but I've heard that it's been discontinued. I used to be able to find it at my local Dollar Tree (woohoo! bonus points for being just $1/loaf), but I haven't seen it there lately. To me, it tasted the most like off-plan, store-bought bread. Check your local Dollar Tree or Walmart for this option.
Aldi's has a tasty on plan option called Knock Your Sprouts Off Bread. I've been using this one lately or making my own.
Make Your Own Sprouted Bread
If you have a bread machine, this option is super fast and easy! I use One Degree Sprouted Whole Wheat flour, and it comes out delicious every time!
I love this recipe from Joyful Jane for my bread machine, and I've heard great things about this easy sourdough recipe from Gwen's Nest.
If You Need A Little More Protein…
My favorite is to add THM collagen to my coffee. It stirs in beautifully and doesn't seem to alter the flavor of the coffee.
You can also make some quick protein milk by adding flavored protein powder to almond milk. Easy chocolate or strawberry milk!
Bottom Line About Stuffed French Toast:
You need some overnight stuffed French toast in your life. It can make your tastebuds happy, your body healthy, and your life less stressed on a busy morning.
Need more easy E meals in your life? Check you this huge list!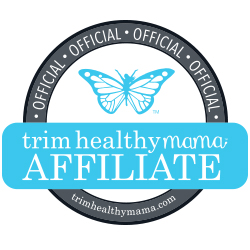 Overnight Stuffed French Toast (Low Fat, THM E)
This delicious French toast is prepared the night before for a scrumptious, low fat breakfast that will make you feel like a guest at a fancy B&B from the comfort of your own home!
Ingredients
8

slices

sprouted bread

3

ounces

reduced fat cream cheese

1

dash

stevia

I used 0.5 packet of Splenda Naturals Stevia

1

cup

egg whites

0.5

cup

almond milk

vanilla, unsweetened
Instructions
Spray 8x8 inch pan with coconut cooking spray.

Microwave cream cheese in a large mug or bowl for 30 seconds. Stir in stevia to combine.


Spread cream cheese mixture over 8 slices of bread evenly. Make 4 sandwiches out of bread by placing 2 slices of bread together with cream cheese sides touching in the middle. Place in the pan; the sandwiches should be touching one another.

Mix together egg whites and almond milk thoroughly, then pour over the tops and sides of the sandwiches. Cover and refrigerate overnight or at least 8 hours.

The next morning, preheat oven to 350 degrees. Remove the cover and bake for 30 minutes uncovered.
Recipe Notes
You can also make an amazing fall-flavored treat by adding 2 Tablespoons of pumpkin puree and 1/2 teaspoon pumpkin pie spice to the cream cheese. Yum!
Resources That I Love
…to help you be healthy naturally:
Supercharge Your Weight Loss- Need a little extra "oomph" to help you stay on plan? Several of my friends recently introduced me to HealthyWage.  If you're losing weight well with THM or if financial rewards motivate you to stay on track, then HealthyWage is perfect for you! 
Save on Healthy Meat– ButcherBox is my new favorite way to buy antibiotic free, grass fed beef, pork, and chicken! It's cheaper than I can get it in the local stores, and it comes right to my door! Use the code AP10 to get $10 off your first box and FREE nitrate-free bacon!! 
Get Healthy Foods for Less- Thrive Market is like the online Costco for healthy groceries, but you don't need an annual membership or anything. We love saving money with wholesale prices on healthy groceries and products that get sent right to our home! Get an extra 25% OFF your first order when you sign up at Thrive Market HERE!
Sharing is caring! If this post has been helpful for you, please click HERE or on the image below to share it on Pinterest! Thanks!