Healthy McGriddles Recipe (Low Fat, THM E)

This breakfast is packed with protein, full of flavor, and husband-approved! And it's ready in under 10 minutes, which is faster than going through the drive through.
It makes a great Saturday morning breakfast, letting you spend minimal time in the kitchen and maximum time relaxing! Move over, McDonald's, this healthy McGriddles recipe will taste good on your lips and not stick to your hips!
Best of all, it's a delicious, filling, E-nergizing breakfast!
E meals can be challenging for a lot of people on the Trim Healthy Mama (THM) plan, so having this easy and tasty meal in your arsenal can make things easier. These slow-burning carbs paired with a wallop of protein will keep you full and nourish your adrenals and thyroid.
I'm pretty sure that you can modify almost any recipe to make it on plan for THM– pretty sure it can all be ours!
Ready for 5-Ingredient THM-Friendly Meals?
---
Want to make THM easier? This Slim & Speedy Menu has 3 days of 5-Ingredient Meals to help you fuel your body fast with slimming foods. (THM-friendly!)
Click here to read more about THM basics and my story of losing all the baby weight in just 4 months!
I love it paired with the fuel-pull version of my Iced Caramel Coffee. My hubs likes it with a cup of collagen coffee. A scoop of collagen helps to make it creamy, full of protein, and fat free!
This recipe uses your favorite maple syrup or sugar-free syrup alternative.
For certain seasons of life, we use a little smear of real, 100% maple syrup (like when I was pregnant and my husband was training for a marathon).
If you're a diabetic or in the weight loss part of the THM plan, use sugar-free syrup or make your own (there's a great recipe in the original Trim Healthy Mama cookbook). This recipe from Wholesome Yum also sounds amazing and easy (my two favorite things!). Lots of THM'ers also love this ready-made sugar-free syrup.
I prefer to make this McGriddle recipe with my healthy pancakes from my freezer stash (check out the easy recipe here).
That makes it super simple and convenient, and I find it easy to make a few extra pancakes when I'm already making a pancake breakfast.
You can, of course, make pancakes from scratch before making this recipe, but it will add some extra cooking time.
I love the classic Trim Healthy pancakes. You can follow the link, or this recipe is also in the original Trim, Healthy Mama book and the first cookbook.
It's so easy, since you can throw all of the ingredients in the blender! Pancakes are a part of our Saturday morning tradition, so these usually make it on our weekly meal plan.
My husband's favorite pancake recipe can be found HERE.
You can use egg whites from a carton for this recipe, or you crack 'em fresh for this healthy McGriddles recipe. I prefer to use freshly separated whites and save the yolks for lemon curd or believe it or not chocolate chip cookies (both recipes are in the first Trim Healthy Mama cookbook– yum!).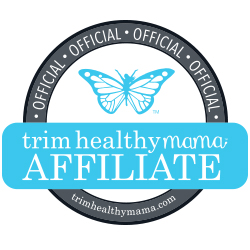 Trim, Healthy McGriddles
Quick, easy, and delish! Perfect for those busy mornings, and it's faster and healthier than the drivethru.
Ingredients
4

Leftover Trim Healthy Pancakes

(see above for recipe link)

2-3

Egg whites

or 4-6 Tbl from the carton

2

slices

turkey bacon

small drizzle

Maple syrup or sugar-free maple syrup

garnish amount

Reduced-fat cheddar cheese
Instructions
Spray a small frying pan with coconut oil cooking spray, and heat over medium-high heat. While heating, beat egg whites, and then add to warm pan. When cooked on one side, flip as a unit (this will look more like an omelet).

Add turkey bacon to the sides of the pan. I usually break mine in half, since they fit in my pan and on the sandwich better this way.

Lightly toast the defrosted THM pancakes, then smear two pancakes with a small amount (I usually use about 1/2 tsp per sandwich) of "maple syrup." This is the bottom of your sandwich.

Add one piece of turkey bacon per sandwich, cooked egg whites, and a small sprinkle of cheese. Then top with a pancake and serve immediately. Yum!
What's your favorite, easy THM'ified breakfast food?